Meet our Alumni
Liliana Rosas
from Mexico
This program is made to provide engineers the opportunity to acquire the required managerial skills to grow vertically in a faster speed and so becoming an asset, a leader within any engineering field. I acquired career related skills in soft skills first because they are highly important to become a good leader and to grow vertically (PR). Then numbers are to complete your competence, not as engineer but as business person. Finally, technical lectures bring us the vision of current and future tendencies within technological industry. It is difficult to choose my favorite memory at the University of Applied Sciences Emden/Leer, so here are my 3 favorites:
My time spent with the Erasmus students.
The cars' project with master's students of Mechanical Engineering
And all lectures with Prof. Passenheim.
Sourabh Shashikumar Naidu
from India
I would recommend that students take advantage of internship opportunities, participate in extracurricular activities, and network with professionals in their field of interest. These experiences can provide valuable insights into the real-world application of the skills learned in the classroom and can help students build a professional network that can be useful in their future careers.
The decision to pursue a degree in Technical Management at the University of Applied Sciences Emden/Leer influenced me by a variety of factors such as personal interests, career goals, and the reputation of the university and the program. The program covers a wide range of topics including economics, management, engineering, and project management.
There are lots of memories that come to mind. One of best memory is from Business Dinner. We had great communication with Prof. Elmar Wings and Prof. Maria Krüger-Basener. Great experience of Business Dinner with all TM friends.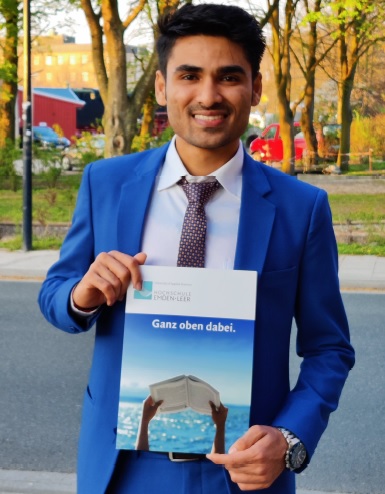 from India
Every subject taught in the course is contributed somehow in my career. I would recommend future students to learn German persistently. It would help you in your further career. My aim was to gain knowledge in management as well as in technical area. I saw the course content of Technical Management fulfills my requirement.
My favorite memory is the knowledge and experience I had during the excursions to Knock, Bremen, Oldenburg. Also best memory was learning ERP and Business Management through simulation games.
from India
I acquired various skills like: time management, team work, decision making, multi-tasking etc. I was very pleased by the courses, modules, structure etc. offered by Technical Management, which perfectly matched my requirements, and the feedback I received from all of the alumni also helped me make my decision.
Unfortunately, I was in the pandemic batch, but my first semester was offline, and it was a great experience returning to classes after a two-year gap. The second semester was online, which was also a novel experience in which we completed team tasks online, studied online, and my favorite memory is playing the muesli game in SAP classes. It was enjoyable; it felt like we were playing a game online while also learning.
I would recommend the current and future students to make the most of their time, take advantage of the rich experience that faculty offers and make use of Camps learnings especially the learning tools like SAP, MATLAB, Tableau which are offered free of cost by the university.
from India
I learnt best in management lessons at the University of Applied Sciences Emden/Leer. Inclusion of Quality Management Systems as one of the modules in this curriculum landed me a job. Each module taught here is well planned, upcoming students should choose one FOCUS topic. Because this program had Quality Management Systems as a Module, I wanted to make specialization in the same and I did it!
from India
The Simulation(serious) Games on ERP-systems and Business Management subject really help to learn things practically. In ERP-Systems, we used SAP S4/HANA, Tableau, and Signavio tools, which is very helpful when applying for full-time jobs or internships. I was impressed by the structure of the Technical Management program, which teaches both technical and management skills. Working in teams, especially in ERP-Simulation and Business Management, was one of the best memories because it allows you to work more competitively to win the game.
The Coordination Office Technical Management organizes various factory tours and field trips during the summer and winter semesters.

Factory visits are mostly held by regional industry leaders and include a presentation of the human resources management, a tour and presentation of the company. In the foreground stands the practical insight into an industry and the career prospects for our students in a company.
Excursions:
VW, Enercon, Meyer shipyard, Überseemuseum Bremen, Futurium Berlin, Technik Museum Berlin, Oldenburg Opera House, Emden Art Gallery.
Events:
Mentoring, Business Dinner, applicant training, renowned guest lecturers (including KPMG, Weidmüller, Dentons, EWE, German Aerospace Center (DLR)).