Campus Garden
An offer for students and employees of the university – become a sponsor for a small patch of green on the campus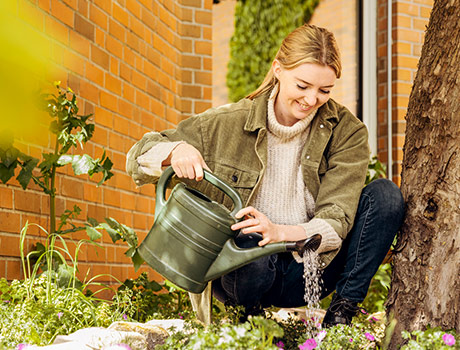 The project is geared towards gardening enthusiasts who would like to take on the upkeep of a small bed or patch of green on our beautiful green campus.
You are expressly encouraged to come up with your own ideas on how the green space should be arranged and what to plant there. You can also team up and take care of a bed together. Each bed has a sign marked "Campus Garten Grünpatenschaft", or campus garden green sponsorship.
What is a sponsorship?
A sponsorship consists of preparing, planting and maintaining small green spaces on our campus in terms of horticulture. Maintenance mainly includes regular watering, weeding and cleaning, and talking to passers-by about the project. You should therefore be prepared to spend a certain amount of time on the sponsorship.
Where can I garden?
If you are interested in becoming a green sponsor, please contact Anna Gerritzen (anna.gerritzen@hs-emden-leer.de). There is a list of the green spaces you are allowed to plant on, but your own suggestions are also possible. These are tested for feasibility. More information is available in the Moodle course "Campus Garten".
The Campus Garden team meets from time to time for discussions and joint activities, such as plant swaps at the sustainable evening market or to attend fruit tree pruning courses together.