Wind turbine
Since the pioneering days of wind energy, our wind turbine visibly represents the university's great commitment to renewable energies in research and teaching at the heart of the wind energy region of East Frisia, and supplies energy for the University of Applied Sciences Emden/Leer.
LED lighting
In 2016, the university upgraded its indoor and outdoor lighting to modern LED lights including energy-saving lighting management. The duration, location and intensity of the light can be determined with the click of a mouse, and motion detectors in the hallways ensure that the resources are only used when they are required.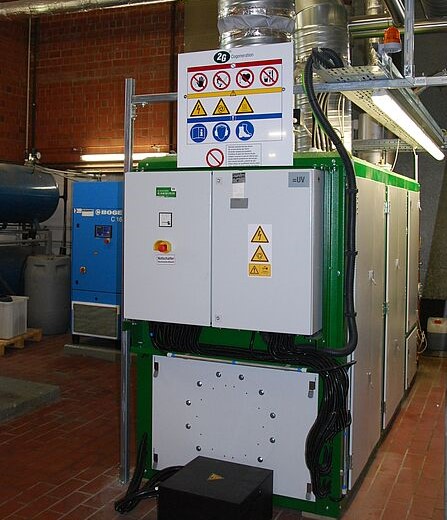 Cogeneration unit
As a result of a student project, the University of Applied Sciences Emden/Leer has also been supplied with heat and electricity from a combined heat and power plant (CHP) since 2016. If the university has a particularly low demand for energy, for example in the summer months when lectures are not held, the basic demand can largely be covered by electricity and heat from the new system. The use of the CHP saves around 256 t CO2.
Photovoltaic system
Since summer 2018, our state-of-the-art PV system has also been making a significant contribution to the university's energy needs. To this end, students specialising in renewable energies will be able to work with the measurement data provided by the systems in the future.
Weather station
The measurement data from the University of Applied Sciences Emden/Leer weather station is used for wind power and photovoltaic systems, among other things. They are displayed in real time.