In the "Wind Challenge" project, our students work interdisciplinarily on the development, construction and testing of a small wind turbine for the International Small Wind Turbine Contest.
Are you willing to deepen your knowledge and skills and contribute with your own hands to the development and implementation of a sustainable technology? Then take a look at what we are working in! We are always looking for new team members!
The International Small Wind Turbine Contest is a an annual contest organized by the Hanze University of Applied Sciences (Hanze UAS), in which student teams from different countries compete in designing and building the best performing Small Wind Turbine (SWT). Our team is called Wind of Change and participated for the first time in the contest in the year 2020.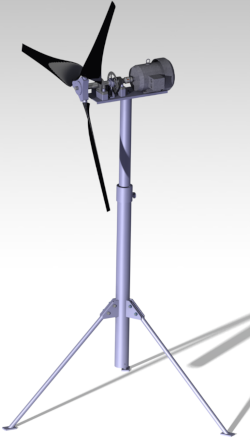 Whether you're just starting your studies or are about to graduate, whether as an intern, a student trainee or for a technical project, your final thesis or even only for sharing experiences. Students from all study fields are welcome to join us and take a role.
We are looking for motivated members for working in the following fields:
Sustainability and Life Cycle Asessment (LCA)
Aerodynamic design of blades
Design and production of electric circuits
Design and production of mechanical components
Development and management of CAD models
Computational Fluid Dynamics (CFD) simulations
Finite Element Analysis (FEM) simulations
Media management (Image, Flyer, video,...)
Project planning and management