Shipyard "Meyer Werft" in Papenburg
Berlin

Welcome Workshop

Christmas Party

Shipyard "Meyer Werft" in Papenburg

Hamburg

Borkum

Indian Evening

Berlin

Chinese Evening

Hamburg

Berlin

Turkish Evening
Previous
Next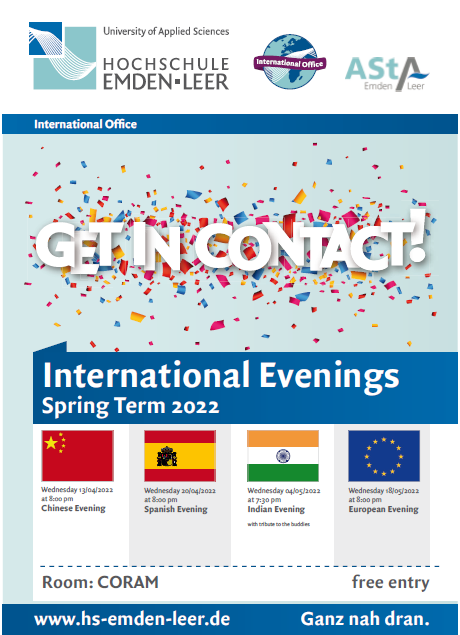 are organized by international students of the university and usually take place twice a month in April/May and October/November. You are cordially invited to spend some great time with your fellow students in a cozy and relaxing atmosphere! Good food and refreshments will be provided: international students get together in advance to cook traditional recipes and present their homecountries and universities.
International Evenings usually start at 8:00pm at the "CORAM".
International Evenings
WEDNESDAY 13/04/2022: CHINESE EVENING
WEDNESDAY 20/04/2022 : SPANISH EVENING
WEDNESDAY 04/05/2022: INDIAN EVENING AND
TRIBUTE TO THE BUDDIES NOTE starts at 7:30 pm
WEDNESDAY 18/05/2022: EUROPEAN EVENING
Austauschcafe
Exchange Cafe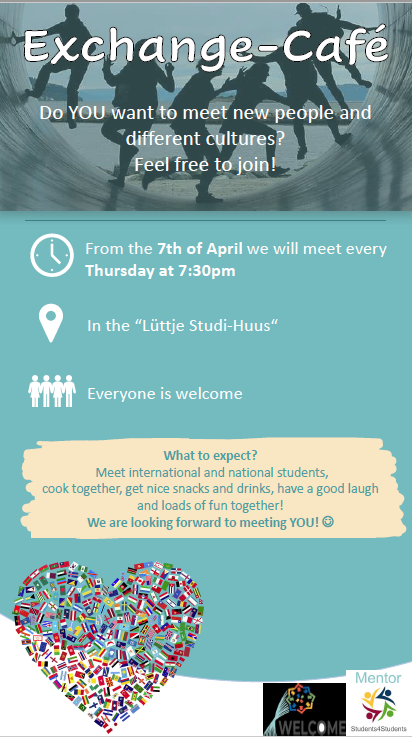 Moin dear students,
the mentoring team students4student offers you from Thursday, 7th of April an exchange cafe. The kick-off event will take place in the Lüttje Studi-Huus. The focus is on the exchange between international and national students. You can expect new acquaintances and cultures. Don't be shy and come by next Thursday.
We look forward to seeing you!
In case of further questions please contact:
Frauke Freesemann
Zentrale Studienberatung
MyCampus
Tel.: +49 4921 807-1989
E-Mail: frauke.freesemann(at)hs-emden-leer.de