Shipyard "Meyer Werft" in Papenburg
Berlin

Welcome Workshop

Christmas Party

Shipyard "Meyer Werft" in Papenburg

Hamburg

Borkum

Indian Evening

Berlin

Chinese Evening

Hamburg

Berlin

Turkish Evening
Previous
Next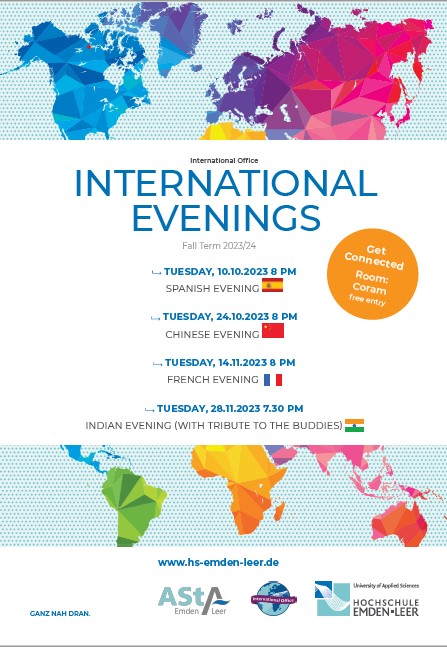 are organized by international students of the university and usually take place twice a month in April/May and October/November. You are cordially invited to spend some great time with your fellow students in a cozy and relaxing atmosphere! Good food and refreshments will be provided: international students get together in advance to cook traditional recipes and present their homecountries and universities.
International Evenings usually start at 8:00 pm at the Coram.
International Evenings
TUESDAY 10/10/2023: SPANISH EVENING
TUESDAY 24/10/2023 : CHINESE EVENING
TUESDAY 14/11/2023: FRENCH EVENING
TUESDAY 28/11/2023: INDIAN EVENING
AND TRIBUTE TO THE BUDDIES NOTE starts at 7:30 pm
The shipyard Meyer Werft is especially well known for the construction of luxurious cruise liners (e.g. the AIDA) The Meyer Werft is one of the most important employers in the region and thus might also be interesting for students in terms of job-related perspectives.
During our visit at the shipyard (guided tour in English), films and exhibitions will lead us through the history of shipbuilding in previous times and will introduce us to building construction of modern ships today.
The excursion will be on Saturday, 21st October 2023.
You can register for it personally at the International Office (room T101, from 9:30 - 12 am). The registration is open from 05.10.23 - 09-10.2023. A fee of 3 Euros needs to be paid with the registration. Please bring the exact amount, we cannot change!
It is only possible to register yourself, not for fellow students!