Studierende berichten über ihren Aufenthalt im Ausland
Gemäß Studienordnung verbringen die Studierenden des Studiengangs IBS ihr viertes Semester an einer ausländischen, nicht deutsch-sprachigen Hochschule. Nicht nur im universitären sondern auch im sozialen und kulturellen Umfeld ergeben sich hierbei neue Herausforderungen und teils abenteuerlich anmutende Ereignisse, an denen wir Sie teilhaben lassen möchten.
Von ihren spannenden und teils überraschenden Erlebnissen rund ums Auslandsstudium berichten einige unserer Studierenden regelmäßig in den folgenden Blogs.
Viel Spaß beim Schmökern!
Lucas Bierhaus
Lima, Peru
Hi, ich bin Lucas und studiere im vierten Semester "Industrial and Business Systems" (IBS) an der Hochschule Emden/Leer.
Das Auslandssemester werde ich in der peruanischen Hauptstadt Lima verbringen! Dort werde ich an der "Universidad San Igancio de Loyola" studieren.
Wieso und weshalb Peru? Die Antwort findet sich auf meinem Blog…
Kurz noch etwas zu meiner Person: Ich reise gerne und habe schon ein bisschen was von der Welt gesehen und möchte alle, die ebenfalls reiseinteressiert sind, daran teilhaben lassen, wie ich ein für mich neues Land entdecke. Zudem fotografiere ich gerne und möchte meine besten Aufnahmen mit allen Interessierten teilen. Vielleicht sucht ihr aber auch einfach nur nach Inspiration für euer Auslandssemester?! Wie auch immer, schaut gerne vorbei.
Mein Blog: https://lucasbierhaus.wordpress.com/
Patrizia Bontjer
Pécs, Ungarn
Hallo, mein Name ist Patrizia und ich möchte in diesem Blog von meinem Auslandssemester in Ungarn berichten. Erst einmal zu mir: Ich bin Studentin der Hochschule Emden/Leer und studiere internationales Wirtschaftsingenieurswesen (kurz: IBS) im siebten Semester. Zu meinen Hobbies gehören unter anderem Sport (Fitness, Joggen, Bouldern, …), Zeichnen, sowohl auf dem Papier als auch auf dem Zeichentablett, Lesen, Schreiben und Fotografieren. Ich bin immer für einen Spaß zu haben und verbringe am liebsten Zeit mit meinen Freunden.
Warum Ungarn?
Die Prüfungsordnung meines Studienganges sieht ein Auslandssemester vor. Kurz nach dem Beginn meines Studiums haben ich und meine Kommilitonen uns die Frage gestellt: "Wo wollen wir in unserem Auslandssemester hin, bzw. wo will ich hin?". Nach einigen Vorträgen, Diskussionen und nach noch längerem Überlegen stand dann endlich mein Ziel fest: Ungarn!

Ich werde die erste Studentin des Fachbereichs Technik der Hochschule Emden/Leer sein, die an der Universität in Pécs studiert. Dies liegt daran, dass nur im Fachbereich Wirtschaft in Pécs studiert werden kann und der Studiengang IBS zu einem großen Teil auch aus Wirtschaft besteht. Folgende englische Kurse habe ich gewählt: Business Consulting, Human Resource Management, Operations Management und Leadership and International Management. Darüber hinaus werde ich einen Ungarisch Kurs belegen.
Mein Blog: https://patrizias-blog.de/
Fabio Herschel
Hangzhou, China
Ni Hao, ich heiße Fabio und befinde mich aktuell im vieren Semester IBS (Industrial and Business Systems), welches ich als Pflichtauslandssemester an der Zhejiang University of Science and Technologie in Hangzhou/China absolvieren werde.
Warum China?
Für China habe ich mich nach meinem 8wöchigen Sommeraufenthalt an der Hefei University/China entschieden, da mir die Landschaft, das Essen und besonders die Leute gefallen haben. Durch diese Summerschool konnte ich mir das Land schon einmal angucken und mir meine Befürchtungen und Vorurteile nehmen.
Falls euch China auch als möglicher Studienort interessiert findet ihr weitere Infos über das Land, die Kultur, die Menschen und natürlich über die Universität, sowie das Studium in meinem Blog.
Hauke-Eden Kluin
Oulu, Finnland
Tervetuloa blogiini oder so ähnlich könnte die Begrüßung im finnischen lauten.
Ich heiße Hauke und bin 21 Jahre alt. Ich studiere im dritten Semester Wirtschaftsingenieurwesen an der Hochschule Emden-Leer. Mein viertes Semester werde ich in Finnland verbringen und möchte alle Leser auf diesem Wege daran teilhaben lassen.
Wieso ein Studium im Ausland? Wieso Finnland? Welche Vorbereitungen musste ich absolvieren ?
Viele Fragen die ich euch gerne beantworten möchte.
Wieso Überhaupt ein Studium im Ausland?
Mein Studiengang der sich um es genau auszudrücken "Internationaler Studiengang Wirtschaftsingenieurwesen" nennt, basiert auf einem Internationalen Schwerpunkt. Das Auslandssemester ist für alle Studierenden meines Studienganges verpflichtet. Unter den Studierenden wird von vielen das Auslandssemester als "Highlight" des Studiums gesehen.
Alles weitere findet Ihr in meinem Blog: https://auslandssemesteroulu.blogspot.com/2020/01/tervetuloa-blogiini-oder-so-ahnlich.html
Julia Groninga
Vancouver Island, Kanada
Meine Worte an euch: Abenteuer Kanada!
Ihr braucht Hilfe oder Inspiration für euer Auslandssemester? Oder wollt einfach meine Erlebnisse verfolgen?
- Ich lasse euch gerne daran teilhaben!

Hi Leute, ich heiße Julia und studiere im 4. Semester an der HS Emden/Leer "Industrial and Business Systems", einfacher gesagt: Wirtschaftsingenieurswesen. Da mein Studiengang international ist, sieht dies ein Pflichtauslandssemester vor. Dabei hat man wirklich viel Spielraum und alle Möglichkeiten sind offen.
Meine Entscheidung fiel mir leicht.
Kanada zu sehen, war schon immer ein Traum von mir! Und dieses Semester darf ich in dieser unglaublichen Natur, die dieses Land bietet, an der VIU auf Vancouver Island sogar studieren.
Fun Fact: Die Insel erreicht mit einer Fläche von 31000km² schon fast die Fläche der Niederlande.
Dieses Erlebnis mache ich übrigens gemeinsam mit meiner Lieblingskommilitonin.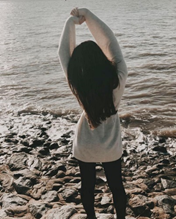 Was sind meine Erwartungen? Ein Abenteuer zwischen Bären und Walen zu erleben. Mich anhand einer Fülle an Eindrücken und Erfahrungen persönlich weiterzuentwickeln. Ganz ehrlich: einfach eine geniale Zeit haben!
Ich werde euch mit interessanten Infos, Geschichten aus meinem Alltag und jeder Menge Fotos versorgen.
Nach nun einem Jahr Planung kann es losgehen! Seid doch dabei und begleitet mich auf meiner Reise, ich würde mich freuen:) https://juliasauslandsblog.blogspot.com/