Application deadlines
Admissions-restricted degree courses: 15.7. for applications for the winter semester or 15.1. for applications for the summer semester
Non-admission-restricted degree courses: 30.9. for applications for the winter semester or 15.3. for applications for the summer semester
Master degree programs are subject to the application deadline set out in the respective admission and admission regulations.
Further information can be found on the respective degree course website.
Application
How to apply for your studies at the University of Applied Sciences Emden/Leer?

Ideally online:
please visit our application portal
Click "Register now" if you have not registered yet
Please fill in all the necessary fields and confirm with "Register"
You will receive an email with your user data and instructions on how to proceed
Now you have to activate your account. Click on the link in the email to confirm your email address
Now log in with your user data and your chosen password and click "Start application"
Select the desired study programme and click "Continue"
Select the study programme you want
Confirm your details and click "Submit application"
(if required, you can also apply for other study programmes – however, only one may be with restricted admission)
Done! Now follow the instructions in the application portal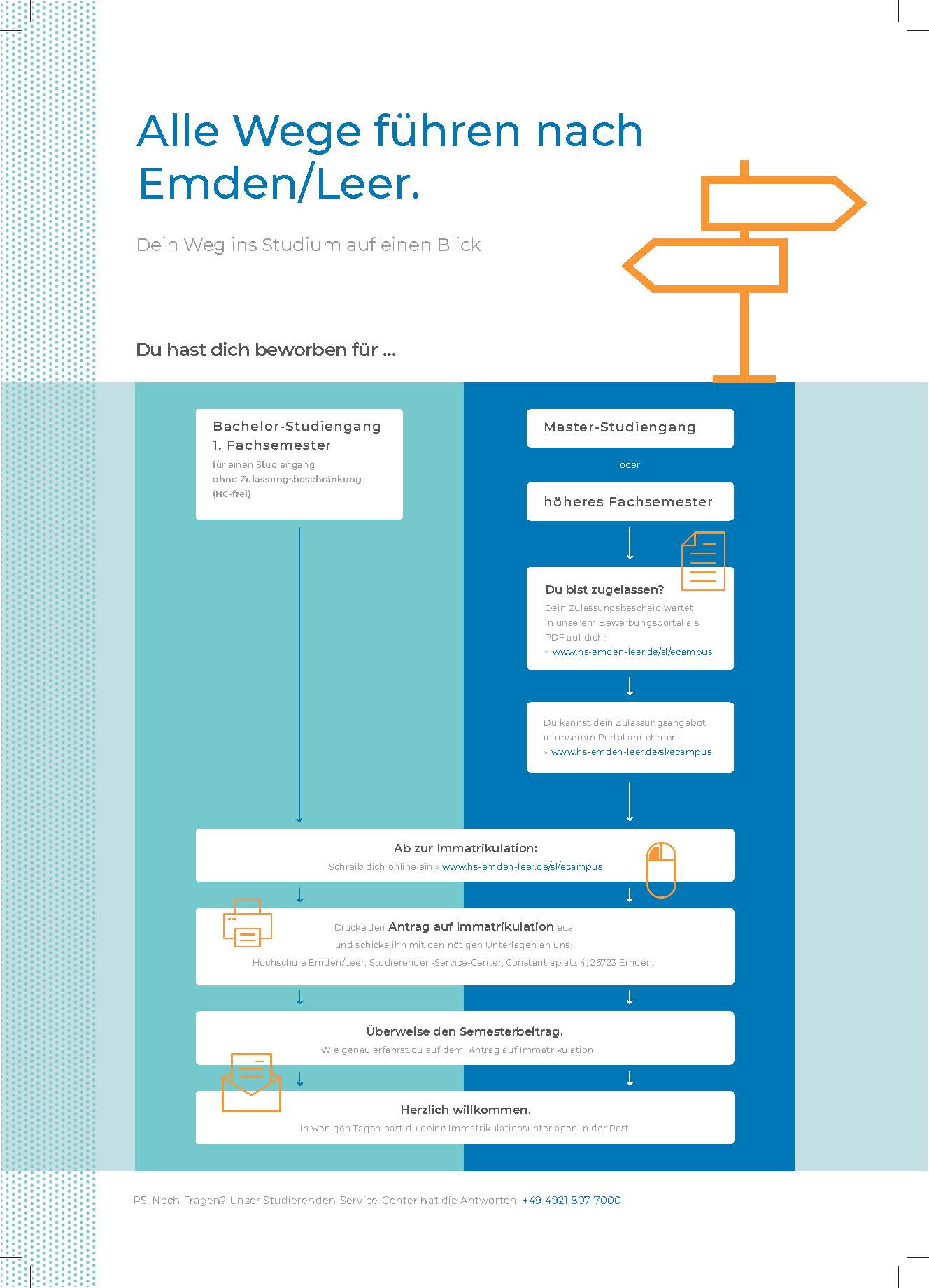 Link zu unserem Bewerbungs- und Einschreibungs-Portal (eampus) der Hochschule Emden/Leer (https://www.hs-emden-leer.de/sl/ecampus).
PS: Noch Fragen? Unser Studierenden-Service-Center (SSC) hat die Antworten: ++49 4921 807-7000.
Die wichtigsten Wege auf einen Blick
Ob Zulassung, Einschreibung oder Prüfung: Im SSC erhältst du Auskunft zu allen Fragen rund ums Studium sowie alle notwendigen Formulare – inklusive Hilfe beim Ausfüllen.
Das Immatrikulations- und Prüfungsamt kümmert sich um alle Vorgänge rund um deine Bewerbung, Zulassung, Immatrikulation, Rückmeldung und um vieles mehr.
Lerne die persönliche Atmosphäre unserer kleinen, feinen Campus-Hochschule kennen und schätzen: Bewirb dich jetzt um einen Studienplatz in Emden/Leer.