date: 21/09/05 time: 04:30 pm – 21/09/10 01:30 pm
Applied Photonics DPG Physics School 2021
fundamentals in photonics, advancing research topics and applications of a key technology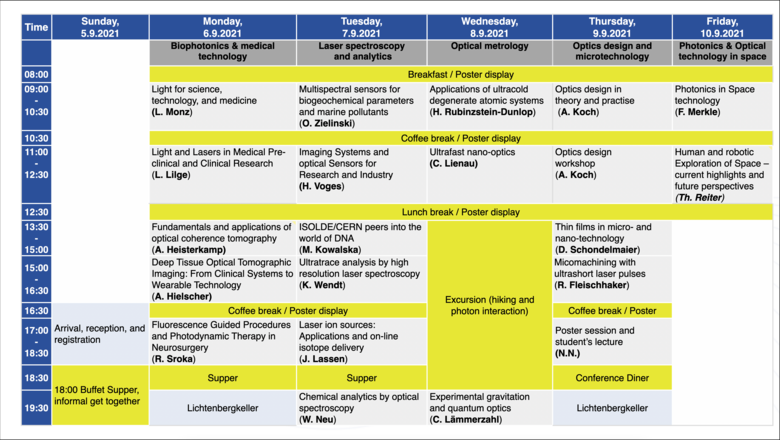 The school "Applied Photonics" covers fundamentals in photonics as well as advancing research topics and applications of a key technology that is seen as one of the most important building blocks in future technological innovation. Photonic systems are ubiquitous in modern life, like e.g. in metrology, biomedical applications, space and earth exploration, production technologies, information processing and imaging.
Topics include: Physics and engineering basics, a hands-on workshop in optical design and simulation software, a comprehensive overview of state-of-the-art techniques including nanooptics, space sciences, laser systems in industrial applications and micro-processing, biophotonics and medical laser therapies, spectroscopy and optical metrology.
Each day of the school is dedicated to a main topic addressed by leading researchers, engineers, and practitioners from renowned companies as well as large scale research facilities. The speakers provide insights into the industry and research landscape, career paths, and upcoming technologies:
Dr.-Ing. e.h. Thomas Reiter (Astronaut, ESOC European Space Operations Centre, ESA Interagency Coordinator and Advisor to the Director General, Darmstadt, Germany)

Prof. Dr. Halina Rubinsztein-Dunlop (Director of the Quantum Science Laboratory, University of Queensland, Brisbane, Australia)

Dr. Ludwin Monz (Member of the Executive Board Carl Zeiss AG; President and CEO of Carl Zeiss Meditec AG, Jena, Germany)

Prof. Dr. Andreas Hielscher (Biomedical engineering, Electrical engineering and Radiology, Columbia University, New York, USA)

Dr. Jens Lassen (TRIUMF, Canada's national laboratory for particle and nuclear physics and accelerator-based science, Vancouver, Canada)

Dr. Heiner Voges (Member of Board of Management and CEO, LaVision GmbH, Göttingen, Germany)

Prof. Dr. Oliver Zielinski (Institute for Chemistry and Biology of the Marine 
 Environment (ICBM) and Head of DFKI, University Oldenburg)

Dr. Fritz Merkle (Member of the Executive Board OHB, Member of the Senate of the German Aerospace Center)
Prof. Dr. Lothar Lilge (Medical Biophysics, University of Toronto, Princess Margaret Cancer Centre, Canada)

Prof. Dr. Claus Lämmerzahl (Center of Applied Space Technology and Microgravity (ZARM), University of Bremen, Germany)
The school is open to enthusiastic advanced undergraduate, graduate and doctoral students, and professionals from all over the world, especially for those seeking a career in academia or industry. The applications will be registered on a first-come-first-serve basis - the number of participants in person is limited to 80.
If you know for sure, that you cannot take part in person you still can apply for live streaming the School by email to Victor Gomer. This email needs to claim in the subject line "Application to Applied Photonics 2021" and provide at least your full name and affiliation.
date:
21/09/05 04:30 pm
–

21/09/10 01:30 pm
Category:
Projekte
Studium
Studierende
Öffentlichkeit
Vorlesung
Workshop / Seminar
Vortrag / Lesung
Ort, Raum

Physikzentrum Bad Honnef, Hauptstr. 5, Bad Honnef, Nordrhein-Westfalen, DE

Online (further information will be available on website & in LinkedIn Event (https://www.linkedin.com/events/appliedphotonicsdpgphysicsschoo6821170578213359617/)

Ausrichter

DPG (Deutsche Physikalische Gesellschaft & Prof. Dr. Walter Neu, Hochschule Emden/Leer)